Dr. Aly Karsan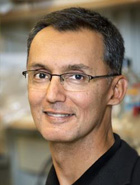 Pathology & Laboratory Medicine
My lab focuses on two major areas: (1) Understanding the molecular basis of myeloid malignancies, in particular the preleukemic bone marrow failure conditions called myelodysplastic syndromes (MDS); and (2) Determining the role of the endothelium in the development of the hematopoietic system. With respect to both areas we have been studying the role of two pathways: innate immune signaling as represented by the Toll-like receptor (TLR) pathways, and the Notch signaling pathway.
With respect to the myeloid malignancies, we have a major focus on understanding the relationship of noncoding RNAs and the regulation of the epigenome. We have We have taken genomic approaches to study patient material followed by functional analyses of specific microRNAs. One example of translation of genomic studies to understanding biologic function is our discorvery that microRNAs residing on the long arm of chromosome 5 act to independently regulate innate immune signaling DNA methylation. Deletion of chromosome arm 5q is the commonest structural anomaly seen in MDS, and current studies is centre around establishing the function of these microRNAs, deregulated innate immune signaling and remodeling of the epigneome in the manifestations of MDS. We are using a variety of in vivo transplantation assays, in vitro cell biology and cell signaling studies as well as additional genomic approaches to answer these questions.
In separate work related to innate immune signaling, we have identified a novel protein, Sash1, by differential proteomic analysis that acts as a scaffold protein in the TLR signal transduction pathway. Expression analyses indicate that this molecule is highly expressed in the microvasculature. Molecular and cellular studies to elucidate the mechanisms of action of this protein are ongoing. As well we have generated a gene-targeted mouse model that demonstrates that loss of this protein results in perinatal death. Currently, we are generating a conditional gene-targeted mouse model to gain a better understanding of the physiologic role of Sash1.
Over the last few years my clinical interest has shifted to using genomics methodologies to deliver clinical diagnostic testing. We were the first accredited lab in Canada to use next-generation sequencing techniques to deliver clinical testing. We are currently developing various gene panels as well as genome-wide tests with the intention of taking these into the clinic.